Wyevale Coventry Garden Centre

HOUSE PLANTS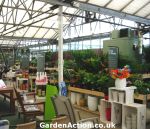 For a medium sized garden centre there was a fair selection of house plants and they were in good condition.
Usefully, the plants were grouped according to the conditions they prefer in the home (light, shady, cool and warm).
OTHER FEATURES
As is normal for medium sized garden centres there are few other features in this Coventry garden centre. No aquatics or pet shops and only a few books and gifts.
At the time of our visit there was a good selection of barbecues and outdoor furniture.
DISABLED FACILITIES
This was disappointing. No wheelchairs were available and no special toilet facilities. The garden centre had obviously been designed with the disabled in mind because there were no steps. But the aisles over many parts of the garden centre, especially the plant area, were cluttered with plants, spades and other obstructions. I would guess that 30% of the plant area was obstructed in some manner as far as the disabled would be concerned.
At the time we visited (11.00 onwards) some of the plant area had widebore hosepipes across many of the aisles and pools of water. This would also prove difficult for the disabled. Most other garden centres don't appear to have this problem.
TOILETS
The toilets were clean with no queues. We could not find any areas designated for the disabled or toddler changing facilities.
DIRECTIONS AND CONTACT
The address is:
Coventry Garden Centre
Brownshill Green Road
Allesley
Coventry
CV5 9PB
A map can be found here.
Tel: 02476 333998
Email: coventry@thegardencentregroup.co.uk
Website: http://www.wyevale.co.uk/on/demandware.store/Sites-Wyevale-Site/default/Stores-StoreDetails?storeID=Coventry
DATE OF LAST UPDATE
January 2010
SUMMARY
Coventry is short on large garden centres so Wyevale is a good place to visit to provide a broad range of your gardening needs. But it's not one we would wholeheartedly recommend. The disabled facilities are also poor. Prices are acceptable.
COMMENTS
If you have any comments about this review or wish to have a garden centre reviewed then send an email to us by clicking the link below:
PREVIOUS PAGE ON WYEVALE COVENTRY GARDEN CENTRE