Miniature Roses

MINIATURE ROSE
With varying heights up to 45cm (18in), the miniature rose is an ideal plant for pots, rockeries and the front of the border. They produce flowers in flushes throughout the summer - the flowers are miniature rose versions of either the cluster-flowered or large flowered roses.
Good examples include 'Angela Rippon', 'Queen Mother', 'Happy Birthday' and 'Snow Magic'.
Click here to buy a Patio rose online from our recommended suppliers.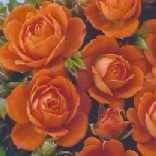 Their petite size may look good indoors, but they will only survive a short time in the dry, warm conditions. If you do take them indoors, restrict it to a month or so, keep them in a cool airy room and spray them with water at least daily.

On the left is the miniature or patio rose 'Top Marks'.

Like most roses miniature rose prefer a full sun position which helps to produce more and brighter flowers. A semi-shade position is OK if they get at least half the day's sun.
Because of their more delicate root structure, miniature roses need a good supply of water at all times. Where they are in pots, this even more important. All miniature roses in open ground will appreciate an annual mulch of well-rotted compost around but not touching the stems. This will retain moisture and provide a slow release source of food.
A regular application of rose fertiliser at the rate described on the pack will benefit them greatly. Stop feeding around for weeks before the last frost date in your area. This will make the plants "harder" and more able to withstand the winter cold. Click here to go to our rose pruning page for specific details on pruning miniature roses.