FLORIBUNDA ROSES
Floribunda roses were produced by crossing cluster-flowering Polyantha roses and Hybrid Tea roses. They first became popular in the 1930s and continue today with new varieties being produced regularly.
Almost all older varieties had no scent but careful breeding now means that many modern varieties have some scent.
Floribundas are similar in height and spread to Hybrid Teas but they produce many more smaller flowers. The flowers appear in clusters rather than a single flower to a stem.
The individual flowers on floribunda roses open at different times and this enables them to give a show of colour all the flowering season from mid June to mid September.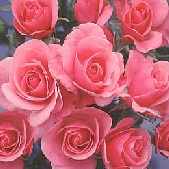 'Jack Wood'

Nearly as popular as Hybrid Tea roses, their flowers grow in trusses on the tips of branching stems.

Cluster-flowered roses produce their blooms in flushes throughout the summer - the flowers tend to be smaller than those of the Large Flowered Roses, but there are more of them.

They are the best rose type for disease resistance and hardiness.
Treat floribunda roses exactly the same as other roses, taking special care to regularly dead head them. See "Pruning Roses" in the left hand menu for any special requirements.