Cauliflower
Technically, there are two sorts of cauliflowers, summer and winter. The former is a proper cauliflower ,while the latter variety is a type of broccoli. The names 'summer' and 'winter' are a bit misleading. Some summer cauliflowers are sown in winter under glass, for harvesting in late spring or early summer. Maincrop varieties of summer cauliflower are sown outdoors in spring for harvesting in summer and autumn.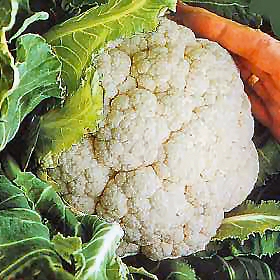 The variety to the left is the Armado variety A reliable and robust winter variety
CAULIFLOWER QUICK GUIDE
Latin Name
Brassica Oleracea Botrytis

Site and Soil
All cauliflowers need a neutral or slightly alkaline soil to do well.

Sowing to Harvest Time
18-24weeksfor summer cauliflower and 36-38 weeks for winter cauliflower.
Yield and Size
The yield is 0.5-1.0kg(1-2 lb) per plan,5-7 plants per 3 m (10') row.
Size, heads are 10-37.5 (4-15") across, stalks 7.5-15 cm(3-6") long, leasvesare45-60 cm (18-24") high.
Name: zafar kazmi
E-mail: Private
Date posted: July 17, 2011 - 05:34 am
Message: living punjab pakistan want to grow cauliflower in 4 acres. please guid right time to sow
---
Name: dobbinson
E-mail: richard.dobbinson2@ntlworld.com
Date posted: August 29, 2010 - 03:42 am
Message: been garening for 45 yrs
---
Name: Ken
E-mail: Kkapush@yahoo.com
Date posted: August 28, 2010 - 03:57 pm
Message: I have some really nice cauliflower leaves but no head of cauliflower. What did I do wrong? I was told it may come out at the end of the summer maybe. It's the end of aug yet no veggie. Tomatoes, peppers, corn were fine.
---