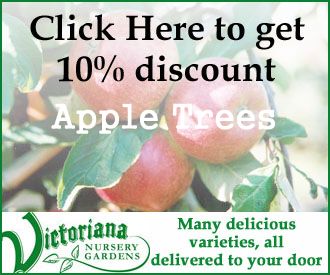 Forms of Apple Tree
Apple trees are extremely adaptable and can be grown in a variety of shapes. The key factor is the space you have available in your garden.
The principal shapes grown today are listed below with the type of space they might occupy. Remember that size of the tree will also depend on the rootstock (see below)
Shape
Space Required
Cordon Very small area
Espalier Very small area, decorative, but difficult to control
Bush Small to medium sized gardens
Standard Medium to large gardens
Rootstocks
All apple trees sold nowadays in the UK and USA are made up from two quite separate parts which together form the complete tree. The lower part of the apple tree is called the rootstock - typically it is the the lowest 25cm (10ins) of the main trunk. This part controls the overall size of the tree, it does not affect the type or quality of the fruit produced. In general, the smaller the tree, the faster it will be to produce a full crop of fruit. After maybe four years, the larger trees catch up, and produce more fruit each year than the smaller trees.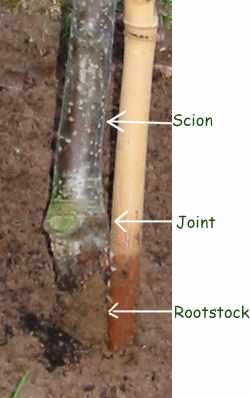 The main body of the apple tree (above the rootstock) is called the 'scion' and this has been grafted onto the rootstock at the nursery. This top part of the tree controls the type of apple produced.
The commonly available rootstocks in the UK and USA are listed below. They are listed in size order, with the smallest first. The sizes quoted are approximate and are at maturity (roughly seven years old) for a bush shaped trees - tree size is primarily dependant on the rootstock, but is also affected by pruning methods, the apple variety and the fertility of the soil. Click on the more common rootstocks if you are interested in for more detailed information.
Rootstock

Width

Height Staking? Plant to Harvest

M27 1m (3ft) 1m (3ft) Yes 2 years

Budagovsky 9 1.2m (4ft) 1.2m (4ft) Yes 2 years

1.6m (5ft)

1.6m (5ft) Yes 2 to 3 years

M26 2.3m (8ft) 1.8m (6ft) Yes 3 years

Mark 2.3m (8ft) 1.8m (6ft) Yes 3 years

Ottawa 3 2.3m (8ft) 1.8m (6ft) Yes 3 years

M7 3m (10ft) 2.5m (8ft) No 3 to 4 years

MM106 3.6m (12ft) 3m (10ft) No 3 to 4 years

M2 4m (13ft) 3.2m(11ft) No 4 years

M4 4.2m (15ft) 3.5m (12ft) No 4 years

MM111 4.5m (16ft) 4.0m (14ft) No 5 years
If you want to know where to buy apple tree rootstock for grafting or when and how to do this, then click here for our apple tree grafting page.
CLICK HERE FOR NEXT APPLE TREE PAGE
Name: Godric Elmhirst
E-mail: godric@talk21.com
Date posted: December 20, 2011 - 04:37 am
Message: Do you have 10 'ish 2 year old MM106 apple trees, or know where I could get them. Have a small 'cider' orchard and some have died. Any variety is fine.
---
Name: lisa
E-mail: Private
Date posted: December 18, 2011 - 02:58 pm
Message: HI there,

I am very interested in M27 rootstock apple trees. Can you send me a price list? Or information on where I can get them. Thank you very much
---
Name: CHUONG DANG
E-mail: Private
Date posted: July 13, 2011 - 04:22 pm
Message: Dear Sir/Madam
i would like to have an inqiry for apple rootstock seeds
please give me the price list of very kind of this one
thank you very much
regards
chuong
---
Name: janet wyatt
E-mail: janet_wyatt@sky.com
Date posted: July 03, 2011 - 04:19 pm
Message: blooming cox's apple tree,lots of apples,gorgeouse apple but all covered in scabs,why?can someone tell us if there is something we can do to prevent this please.
---
Name: Andrew
E-mail: andrew@a-baker.co.uk
Date posted: June 29, 2011 - 05:35 am
Message: Help

We have a MM106 Apple tree. Planted last year, so not really grown much. The branches are laden with apples, meaning all the branches are bending down to the ground. This can't be good for the tree, can it? Should we remove the apples now and let it concentrate on growing ??

Any guidance apprecaiated
---
Name: bob
E-mail: gybeho@btinternet.com
Date posted: January 16, 2011 - 12:02 pm
Message: i bought 9 super column apple trees last march and 3 produced fruit. is now the right time to apply a winter tatr wash?
thanks bob
---
Name: tom
E-mail: Private
Date posted: December 29, 2010 - 09:39 am
Message: i bought my tree from a local garden centre 1st year
approx 15 apples this year approx 150 yes 150 apples WOW but the tree nesrly fell over so i wired it up then i rmoved about 100 apples now i am going to cut the wire off before it does any more damage then i am going to prune as per your diagramme thanks tom
---
Name: teresa
E-mail: dixieteresa@gmail.com
Date posted: October 23, 2010 - 03:45 pm
Message: What is the best rootstock to use as far as Hardy and the amount of fruit.
---