Hilltop Garden Centre, Coventry
(page 2)
HOUSE PLANTS
Hilltop garden centre did not sell any house plants at the time of our first visit. However, when we revisited in December 2008 there was an admirably good selection of seasonal house plants. See the next page for more details.
OTHER FEATURES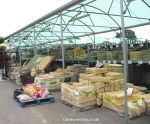 All the normal sales area (gifts, tools, fertilisers, compost etc.) were there in common with other garden centres of this size.
In addition to these, Hilltop provide an unusually comprehensive range of fencing, paving, chipping and good quality outdoor furniture.
DISABLED FACILITIES
The floor was flat and most of the aisles were wide enough for a wheelchair. Wheelchairs were available at the entrance for no cost.
AQUATICS AND PETS
No pets or fish were sold at this garden centre. However an adequate range of pet and fish feeds / accessories were available.
CAFE FACILITIES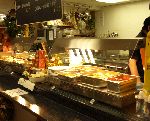 We revisited this garden centre in December 2008 and it had been extensively renovated. There was a new Italian chef, Ino, and the menu was different from the previous very unadventurous one.
The cooking area was on display, so you know exactly how the meals are prepared. Ino told us that all the meals were prepared freshly to order in the kitchen.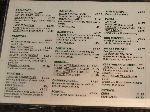 The menu was more adventurous but still offered good value. Click the pictures on either side to see the basic menu. As well as this there were other main meal specials on offer. Everything on the menu we saw, was under a fiver, excellent pricing!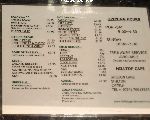 We can now fully recommend this cafe. The decor is basic but clean and well kept. The atmosphere is very pleasant and the food tasty and good value. Well done Ino and staff!
TOILETS
The toilets were clean with no queues.
CAR PARK
The car park was good with sufficient space and a flat surface.
DIRECTIONS AND CONTACT
The address is:
Shilton Lane,
Shilton,
Coventry CV7 9LH

A map can be found here.
Tel: 024 7661 4752
Email: marlene@hilltopgc.fsnet.co.uk
Website: http://www.hilltopgardencentre.com/

DATE OF LAST VISIT
Late winter 2008.
SUMMARY
Hilltop Garden Centre is one of the larger garden centres / nurseries in the Coventry area and is a good choice for all your plants and gardening needs. Staff are plentiful and helpful. The renovation of the cafe and the introduction of a new menu means that we fully recommend the cafe
COMMENTS
If you have any comments about this review or wish to have a garden centre reviewed then send an email to us by clicking the link below:
PREVIOUS PAGE ON HILLTOP GARDEN CENTRE, COVENTRY