HOUSE PLANTS
There was a good range of indoor house plants and they were conveniently grouped. Groupings were based on what conditions suited the plants best. Cool and airy, bright and warm etc.
So many houseplants are killed because they are in the wrong position. This was a good attempt by this garden centre to help and inform their customers.
OTHER FEATURES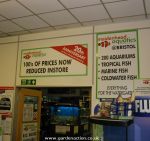 The aquarium centre at Wyevale's in Bristol was courtesy of Maidenhead Aquatics.

We can't praise this company too much both at this Bristol garden centre and all the other locations. There is a wide range of tropical, marine and coldwater fish, all well displayed. The range of aquatics accessories was impressive.
The garden centre had a good range of gifts, dried flowers, books etc. It also had a room devoted to outdoor garden furniture.
This is not the place to visit for all your gifts but for the size of garden centre the range was good.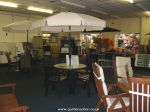 CAFE
There is a small cafe which is clean though the decor is distinctly uninspiring. The food on offer was of the light lunch, snack type. There were sandwiches, baguettes, cakes etc. There were no "specials" main meals, although ham eggs and chips were on offer. The service was good and there were no queues.
DISABLED FACILITIES
Access for wheelchair users was good throughout the indoor and outdoor areas. The aisles were wide and the surfaces were reasonably flat. There were no wheel chairs available at the entrance.
TOILETS
The toilets were clean with no queues.
CAR PARKING
There were plenty of car parking spaces and the car park surface was flat and well drained.
The exit from the garden centre was onto an extremely busy road. Turning right out of the car park and crossing both lanes of traffic was almost impossible!
DIRECTIONS AND CONTACT
The address is:
Keynsham Garden Centre
Hicks Gate
Keynsham
Bristol BS31 2AD
A map can be found here
Tel: 01179 778945
Email: keynsham@thegardencentregroup.co.uk
Website: http://www.wyevale.co.uk/on/demandware.store/Sites-Wyevale-Site/default/Stores-StoreDetails?storeID=Keynsham
OPENING HOURS
Monday to Saturday: 9.00 to 6.00
Sunday: 10.30 to 4.30
LAST UPDATED
January 2010.
SUMMARY
Wyevale Keynsham Garden Centre in Bristol provides a broad range of goods for the gardener at average prices. At the time of our visit the outdoor plant area looked a bit bedraggled with a few very poor plants. The cafe is good for coffee, tea and / or a snack.
COMMENTS
If you have any comments about this review or wish to have a garden centre reviewed then send an email to us by clicking the link below:
PREVIOUS PAGE ON WYEVALE KEYNSHAM GARDEN CENTRE, BRISTOL
BRISTOL GARDEN CENTRE INDEX PAGE