TOPICS IN SELECTING GREENHOUSES

Wood or Aluminium?


Glazing Type

Greenhouse Shape


Heating


Lean to greenhouses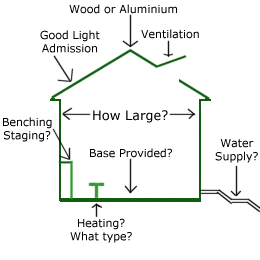 The picture above highlights some of the points you should be thinking about when choosing the best greenhouse for your needs.
Some other facts need thought as well if you want the most from your greenhouse. For instance, what shape and size is best and what use will be made of it?
This section of the GardenAction greenhouse pages will expand on these areas and help to lead you through the process of selecting your garden greenhouse. The same principles apply wherever you live, be it the UK, USA, Canada, Australia, New Zealand or even Russia!
Click here for the good and bad points about aluminium and wood greenhouses.