Lean-To Greenhouses
Click here to go to our lean-to greenhouse page. Lots of information about the types available and their benefits.
Traditional Shaped Greenhouse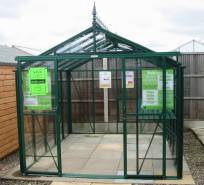 One key advantage of the traditional shaped greenhouse is that there are far more sizes available than other types, they are generally cheaper to buy and they are available from a large number of suppliers. So, if this greenhouse shape matches your needs, buy it rather than the more expensive octagonal or lean-to greenhouses.
Even with the traditional garden greenhouse shape, there are subtle variations and they generally arise in order to maximise light transmission in the winter and spring months. At these times of year, you may well be growing plants in your greenhouse, and maximum light transmission is important because the sun is so low in the sky and days are generally more cloudy. Light transmission is not so important in the summer months because there is more than enough light to go round.
When thinking about light transmission, the obvious needs to be mentioned! There is only one sun and it shines on your greenhouse from roughly the same direction each winter and spring day. The point in maximising light transmission is to provide light to all parts of the greenhouse and not just the side facing the sun.
There are four main variations on the traditional shaped greenhouse, each is a compromise as shown below.